Volkswagen Passat offers R-Line and GT trims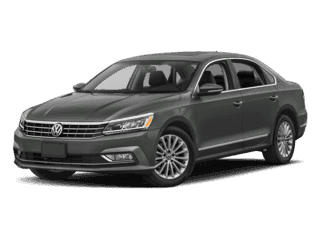 2018 Volkswagen Passat R-Line vs V6 GT
At first glance, these two trims might look almost the same to you. There's a reason for that. You see, the Passat V6 GT has the R-Line front and rear bumpers and larger 19-inch wheels, though of the Tornado design rather than Salvador. Wheel designs aside, what are the differences between the 2018 Volkswagen Passat R-Line vs V6 GT?
Different engines and features
If you look at the 2018 Volkswagen Passat lineup as a whole, you'll notice the R-Line is only the second of seven trims, while the V6 GT is the mid
trim level. This should tell you that the options might share some similarities in the sportier styling elements, but are very different when it comes to features. This also means they aren't priced the same.
The 2018 Volkswagen Passat R-Line is an appearance package with a starting MSRP of $24,995. The model has the 174-horsepower turbo 4-cylinder engine, R-Line bumpers, side skirts and badging and a 6-speed automatic transmission. Comfort and convenience features include heated side mirrors, automatic headlights, dual-zone automatic climate control, adaptive cruise control, V-Tex leatherette seating and the 6.3-inch touchscreen with Apple CarPlay and Android Auto integration.
The 2018 Volkswagen Passat V6 GT has a starting MSRP of $29,145. One obvious difference in the name alone is the fact that the GT has the 3.5-liter V6 engine that offers 280 horsepower. Clearly, it's not just sportier looking, but is much more potent. Other features include a power sunroof, keyless access with push-button start, two-tone leatherette seating and more. These features are, of course, on top of the features the R-Line offers.
So how do you choose between the R-Line and GT? If you want more power and features, the GT is the route to go. Don't forget, though, that a turbocharged 4-cylinder engine will give you a more efficient sedan.
Do you have any more burning questions about VW models? Leave us a comment here at the Volkswagen of South Mississippi Blog.